About the Owners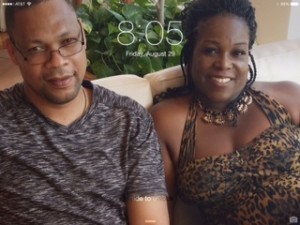 From a lone grill to their very own restaurant, Paula and Neville Brown made their dream come true.
"This restaurant is like a vacation for us because we're both here and we are together 24 hours a day, which is good. We both get to do what we enjoy, which is compete in the kitchen," Paula explained.
Cocoa's Authentic Caribbean Jerk opened its doors July 4, but just two days later the couple faced a life-altering health scare. Neville Brown had a major stroke. "They did not expect for him to make it. He had the worse kind of stroke, he had the bleeding [in his brain]," Paula explained. "When he got to Georgetown University, by the time I got there, he was already on life support and they thought that he would probably bleed out during the night and pass," she said. "While he was laying there, I said 'if you hear me squeeze my hand' and he did, he squeezed my hand and I just looked at those doctors and I said 'look don't say one more negative thing and do everything you can to save my husband.'"
Neville is becoming stronger every day and is currently receiving outpatient therapy two times a week. "They call me the miracle man," he said. Neville gives credit to his recovery to the photo of him and his wife by the waterfall in Jamaica. "I feel strong; I always had a good feeling that everything was going to be okay. I just take it day by day," he explained.
The idea of bringing Caribbean cuisine to Southern Maryland formed while Neville and Paula were in Jamaica for Paula's birthday. Once they returned to Maryland, Paula made a trip down to her mother's home in North Carolina and brought back a grill and began selling their food at events on the weekends. Their first event was the Spring Festival in St, Marys. "We were such a big hit. I started booking more events, so I went on the hunt for a restaurant," Paula said.
She looked at a few places, but ultimately found the perfect location in Lexington Park. "We opened the doors and I looked around and I felt like I was home. It was Cocoas at that point," she explained. Paula says the response has been great since opening the restaurant. "When we fix our plates we don't look at fixing a plates as a profit," she said. "We just want to see people happy."
Cocoa's Authentic Caribbean Jerk offers both American and Jamaican food; the restaurant just received its liquor license and will now offer wine, liquor and beer with guest's meals. The restaurant is located at 19661 Three Notch Road in Lexington Park.